OmniBook XE3
HP Support Page HP Support XE3 gc
Windows 2000 Upgrade Guide for HP Notebook PCs
Betriebssystem: MS Windows 2000 Professional
BIOS:
CPU: Intel PIII 850 MHz
RAM. 256 MByte
DVD Toshiba
Toshiba SD-R2002 4x4x24x4 Combo CD-R/RW/DVD Drive
OmniBook XE3 Typ: F2397K GC
Mobile Intel® Pentium® III Processor 900-MHz
256 MB
15.0-inch XGA TFT
30 GB Combo
DVD+CD-RW
S3 Savage/IX-8MB
Built-in 56K modem and 10/100 LAN
9-cell Li-Ion
Win 2000
Prozessortyp: Intel Pentium III (SpeedStep)
Taktgeschwindigkeit: 900/700 MHz
Hauptspeichergröße: 256 MB
Festplattengröße: 30 GB
Display Größe: 15" XGA
CD-ROM / CD-RW / DVD-ROM: DVD-/CD-Rewriter Kombilaufwerk
Docking-Erweiterung: Ja - optional
Modem/Ethernet Onboard: Ja/Ja
Grafikkartenspeicher: 8 MB
Betriebssystem: Win2000

My HP OmniBook XE3 GC
Note: Adapted from HP web site, Laptop Status: 21 July 2001
processor and memory
cpu
900-MHz Intel Mobile Pentium III processor featuring Intel SpeedStep™ technology (700-MHz with battery)
processor cache
L1 cache: 32-KB internal
L2 cache: 256-KB internal
memory
RAM: 256 MB of 100-MHz SDRAM standard (PC100)
• 512-MB maximum system memory (two slots available only for memory modules; two 256-MB modules must be used to achieve 512-MB) (144-PIN/3.3V; 1.25-in slots)
video
display
15-inch (38.1-cm) diagonal 1024 × 768 XGA TFT display with 16 million colors
video card
S3 Graphics, Inc. Savage/IX display driver, graphics controller
2X AGP graphics
128-bit single-cycle 3D architecture video graphics controller
8 MB of embedded video SGRAM
Integrated NTSC/PAL TV encoder
Dual-display capability (Windows ® 98 SE only)
TV-out support (composite)
external video resolutions
1024 × 768/16M colors/85Hz
1280 × 1024/16M colors/85Hz
1600 × 1200/64K colors/85Hz
storage
hard drive
Industry-standard 30-GByte Enhanced-IDE hard drive
Toshiba MK3017GAP
standard
• Built-in 3.5-inch (8.9-cm), 1.44-MB floppy disk drive (3-mode support)
• Built-in 6X × 4X × 4X × 24X DVD+CD-RW combo drive
Toshiba DVD-ROM SD-R2002 SD-R2002 DE

Interface:
ATAPI
Compatible CD-RW/DVD-ROM Standard - Write:


| | |
| --- | --- |
| Write Formats - CD-R, CD-RW | Disc at once, Track at once, session at once, Packet Write |
| | CD-DA, CD+(E)G, CD-MIDI, CD-TEXT, CD-ROM, CD-ROM XA, MIXED MODE CD, CD-I, CD-I BRIDGE (Photo-CD, Video-CD), Multisession CD (Photo-CD, CD-Extra) |

Compatible DVD-RAM Standard - Read:

| | |
| --- | --- |
| DVD: | DVD-ROM (DVD-5, DVD-9, DVD-10, DVD-18) |
| | DVD-R (read) |
| CD-ROM: | CD-DA, CD+(E)G, CD-MIDI, CD-ROM, CD-ROM XA, MIXED MODE CD, CD-I, CD-I Bridge (Photo-CD, Video-CD), Multi-session (Photo CD Disc, CD-Extra, CD-R, CD-RW), CD-RW (read), CD-R (read) |

Note: All DVD/CD formats, except CD-Red Book (audio), require additional application specific software and/or hardware. The drive is capable of reading these data formats. However, in order to run applications that use these formats, you must first have the required software and/or hardware.

Data Disc Capacities
DVD-ROM
4.377GB (DVD-5)
7.959GB (DVD-9)
8.754GB (DVD-10)
15.917GB (DVD-18)
3.678GB (DVD-R)
CD
656.5MB (mode 1)
748.8MB (mode 2)
audio and ports
audio
• 16-bit Sound Blaster Pro–compatible stereo sound (ESS 1988 Allegro)

Allegro™
The Allegro™ family of products from ESS Technology includes single-chip PCI audio-modem accelerators that combine advanced audio and modem functionality in a highly integrated PCI solution for the multimedia PC. The Allegro™ integrates a high-fidelity AC'97 codec, to offer a single-chip standalone audio solution. With the addition of a MC'97 modem codec, the Allegro™ can operate both as an audio accelerator and as a V.90/V.92 HSP modem. The external AC-Link allows the Allegro™ to use an AC'97 codec for docking or four-speaker applications. The Allegro™ PCI audio accelerator products are available for desktop applications and for mobile applications with the added I2S interface. Click on the links below for more information ESS's Allegro™ products. Source: ESS Technology Inc. ftp://ftp.esstech.com/

• Stereo sound via headphone-out
• Polk Audio speakers
• 3D-enhanced PCI bus audio
• Supports CD-play while system is off, CD-Player OZ-163 Controller
• Built-in microphone-in port


AC'97 Codec

The AC'97 codec from ESS Technology is a general-purpose 18-bit stereo, full-duplex audio device that conforms to the analog component specification of the Rev 2.1 AC'97 (Audio Codec 97) Component Specification. The AC'97 codec implements a high-performance accelerated PCI audio solution, when combined with the Maestro™-3 digital accelerator, or when used as a standalone soft-audio solution. Click on the link below for more information on the AC'97 codec.

communications
Integrated 56-Kbps modem
ESS Technology Inc. ES56CVM-PI Data Fax Voice Modem
+ LAN (Ethernet 10/100)
Accton EN2242 Series MiniPCI Fast Ethernet Adapter www.accton-europe.com
Accton.tw
ports
• Two Universal Serial Bus (USB) ports
• Serial port: 9-pin, 115,200-bps
• Parallel port: 25-pin bidirectional ECP and EPP
• 4-Mbps IrDA-compliant infrared port
• PS/2 keyboard/mouse port (Y-adapter compatible)
• VGA: 15-pin
• Composite TV-out
• RJ-11 modem jack
• Headphone-out and microphone-in ports
• Docking port: supports optional port replicator
pc card slots
One Type III or two Type II PC Card slots CardBus-enabled ( Texas Instruments PCI-1420-CardBus-Controller))
power
• Universal AC adapter: 100- to 240-Vac (50- to 60-Hz) input; 19-Vdc, 3.16-A output
• Built-in smart rechargeable 9-cell Lithium-Ion (LiIon) battery (with up to 4-hour run time) or
• Built-in rechargeable 9-cell Nickel-Metal Hydride (NiMH) battery (with up to 3-hour run time)
• Approx. two-hour re-charge time
• Suspend/resume/save-to-disk feature
• Auto turn-on on dock
• Low-battery warning
• CD player buttons (previous, play/pause, stop/eject, next, volume-up)
• Status LCD (date, time, battery life)
• Four one-touch quick launch buttons (user programmable)
• ACPI 2.0- and Energy Star-compliant

keyboard and pointing device
• 87-key full-size keyboard (with 101-key emulation); supports
Windows keys
• Embedded numeric keypad
• 12 function [Fn] keys
• Touch pad with on/off and scroll up/down button
Synaptics PS/2 Port TouchPad
• Four one-touch (user-programmable) quick-launch buttons buttons

software
operating system
Microsoft ® Windows 2000 Professional DE 5.00.2195 Service Pack 1
drivers and utilities
• McAfee VirusScan
• HP TopTools for Desktops Agent Software V5.0/WMI Jun 27, 2000
• HP DiagTools 2.0 for system diagnostics
• Phoenix BIOS 4.0 release (6.0 code base)
Revision: GC.M.1.63
• Touch pad and pointing stick drivers for independent control of each device
• Online user's handbook
internet and online
• Microsoft Internet Explorer 5.0
• Microsoft Outlook Express
• MusicMatch Jukebox MP3 player
productivity applications
• Adaptec Easy CD Creator 4.02d http://www.roxio.com/
• McAfee VirusScan v4.5 Networks Associates Technology
• Mediamatics DVD Express player software
MusicMatch Jukebox 5.10.4002HP_MCD_DEU MusicMatch
• Adobe® Acrobat® Reader 4.0 (English only)
• System Diagnostics by HP DiagTools 2.2 (English only)
• Touch pad tap and scroll functionality by Synaptics (English only)

manageability
manageability features
Desktop Management Interface (DMI) 2.0-compliant HPTopTools 5.0
DiagTools version 2.39g in HP Utility Partition
HPREG
security
• User and administrator passwords
• Kensington Microsaver lock slot
• System and hard drive passwords
• PC identification displayed at boot
• DMI-accessible electronic seriel number
• Optional HPMobile ProtectTools 2000 Smart Card Kit V2.1

mobility
weight
• 7.8 lb (3.54 kg) to 8.0 lb (3.62 kg) with 15-in display
dimensions
• 13.03 × 10.87 × 1.63 in (33.10 × 27.61 × 4.14 cm) with 15-in display
support
24×7 HP technical phone support during the warranty period Centralized, worldwide BIOS and driver update service Proactive notification Service repair tracking
warranty
• One year worldwide parts-and-labor limited warranty models.
• A one-year, worldwide warranty on battery and accessories
• Optional service extensions are available for up to 3yrs of coverage, as well as upgrades for on-site service and accidental damage protection.
optical storage products Toshiba SD-R2002 combination CD-RW drive with DVD-ROM readability
Drive features
fast writing speed of 4X for CD-R and CD-RW
full 24X speed maximum playback for CD-ROM
4X for DVD-ROM.
DVD Forum's DVD-ROM specifications
4X Record CD-R
4X Rewrite CD-RW
4X DVD Read
24X CD Read
Horizontal or Vertical mount
650MB capacity
Random Seek Time:

DVD read: 140ms
CD-ROM read: 105ms

Data Transfer Rate Sustained: Writing 600KB/s (4X) Reading:

Max 6,536KB/s (DVD-ROM)
Max 3,600KB/s (CD-ROM)

2MB Buffer
MTBF 100,000 POH's
| | |
| --- | --- |
| McAfee Viruscan 5.13 or later | Reinstall Viruscan 5.13 or later from c:\hp\programs after upgrading to Windows 2000. |
| | |
| --- | --- |
| MusicMatch MP3 Player | Reinstall MusicMatch from c:\hp\programs after upgrading to Windows 2000. |
McAfee http://www.mcafee.com
Printer
HP Color LaserJet 4500 Printer
Source: hp
HP LaserJet 4000 T
Source: hp
HP DeskJet 340 CBI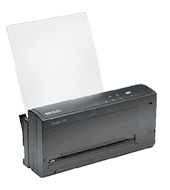 Source: hp
PartitionMagic 6.0
----------------------------------------------------------------------------------------------
Starb im April 2005 nach einigen Jahren treuen Dienstes.
Updated on 30. Juli 2008.